Damascus, SANA-Speaker of the People's Assembly Hammoudeh Sabbagh stressed the importance of consolidating the Syrian-Iranian relations in various domains, describing them as "historical, deep-rooted and constantly developed."
Sabbagh's remarks came during a meeting with Iranian Minister of Education Mohsen Hajimirzaei and accompanying delegation on Thursday.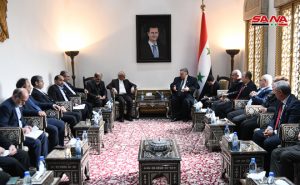 Sabbagh said that the relations between the two countries have reached an advanced stage, hoping that various forms of joint work would be reached between the two countries to serve the interests of the two friendly peoples.
For his part, Hajimirzaei said that exchanged visits and meetings between the two countries reflect the deep relations, indicating that his visit to Syria comes in the framework of the strategic approach of Iran based on supporting its friends on top of them Syria.
He appreciated the two countries' steadfastness in facing the Zionist-American schemes, and Daesh (ISIS) terrorists and others terrorist organizations, voicing his country's pride in the victories achieved by Syrian Arab Army against terrorism.
In a statement to journalists, Hajimirzaei pointed out that Education field has a key role in bolstering the relations between Syria and Iran.
Shaza/H.Zain